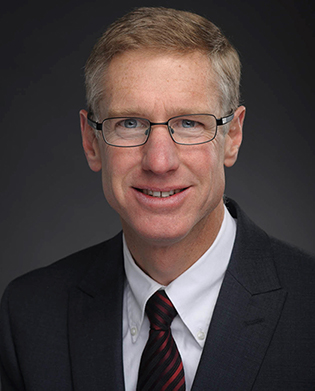 Name and Position:
David Dickensheets,
Distinguished Professor and Director of the Montana Nanotechnology Facility
What are your central research questions?
I am interested in research at the intersection of microdevice technology and optical instruments. I am especially interested in the ways new devices can enable more functional instruments, particularly in health care.
What motivates or inspires your research?
I have always been fascinated with using instruments to to probe beneath the surface of tissue with acoustic waves and especially light waves. I am also intrigued by micromachines and optical microdevices. Blending these areas of inquiry is a great way to explore my curiosities and to advance diagnostic techniques, helping further medicine.
Figure 1: a.A cross-sectional view of the miniaturized confocal microscope with a new objective lens that incorporates a MEMS 3D scanner. b.An illustration of the light path through the annular aperture and the beam scan of the MEMS device. c.A model of the MEMS 3D scanner. A gimbal platform is bonded to a set of quadrant electrodes
What is your academic background, and what professional development prepared you to do this research (i.e., what advice to young scientists who might be interested in pursuing this research as a career opportunity?)
I earned an B.S. degree from the University of Colorado, then a Ph.D. from Stanford, both in Electrical Engineering. My advice for young engineers who may be interested in this type of work is to find mentors who are looking at the questions that intrigue you and to keep exploring your curiosities.
What were some of the key research findings, and what was their significance and application?
We have made headway on fast focus control of optical instruments based on mirrors with adjustable curvature.
We can refocus on time scales that are orders of magnitude shorter than conventional instruments, which is important for 3D imaging.Our work has pioneered optical technology that can be used to scan human tissue for diagnosing cancer, among other applications. My research has focused on developing tiny mirrors and other optical components that can be manipulated electronically in order to generate high resolution images. The devices can be used by health care providers to perform "optical biopsy" using light to see certain kinds of cells without needing to remove living tissue.
What was the funding source for this research?
Over the years, this research has been funded by the National Institutes of Health and the National Science Foundation.
Please provide a few recent publications that resulted from your research done at ICAL.
Tianbo Liu, Milind Rajadhyaksha, David L. Dickensheets, "MEMS-in-the-lens architecture for a miniature high-NA laser scanning microscope," Light Sci Appl8, 59 (2019).
David L. Dickensheets, Tianbo Liu, Milind Rajadhyaksha, "MEMS-in-the-lens 3D beam scanner for in vivo microscopy," Proc. SPIE 10931-35, 2019.

David L. Dickensheets, Tianbo Liu, Seth. Kreitinger, Gary. Peterson, and Milind Rajadhyaksha, "Toward Smaller, More Useable Clinical Confocal Microscopes with Advanced Scanning and Integrated Wide-Field Guidance," in Biophotonics Congress: Biomedical Optics Congress 2018 (Microscopy/Translational/Brain/OTS), OSA Technical Digest, Optical Society of America (2018)
Andew J. Hohne, Benjamin Moon, Carol L. Baumabuer, Tristan Gray, Martin J. Tauc, James Dilts, David L. Dickensheets, Joseph A. Shaw, Wataru Nakagawa, "Nanofabricated Infrared Polarization and Color Filters for Cloud Thermodynamic Phase Determination," 2018 International Conference on Optical MEMS and Nanophotonics (2018)
Tianbo Liu, Aaron J. Svidunovich, Benjamin C. Wollant and David. L. Dickensheets, "MEMS 3-D Scan Mirror With SU-8 Membrane and Flexures for High NA Microscopy," in Journal of Microelectromechanical Systems, 27(4):719-729 (2018)