Women+ in Physics

Members meet Dame Jocelyn Bell Burnell in 2018
Women+ in Physics members have worked with leaders of Towards a More Inclusive Astronomy (TaMIA) to write a statement expressing our stance against racism and specific points of action we will focus on in solidarity with our Black, Indigenous, and People of Color colleagues.

Welcome!
The Women+ in Physics group at Montana State University was started fall of 2017 by Dr. Amy Reines, a faculty member of the Physics Department. We focus on creating a supportive community climate of inclusivity with a long term goal of increasing the number of women and underrepresented genders in the field. Our membership is open to all physicists interested in participating, regardless of career stage. The current group includes undergraduate and graduate students, postdoctoral researchers and faculty members.
We meet twice a month, and engage in discussions involving the climate both within the department and in the field as a whole. We also schedule meetings with visiting colloquium speakers identifying with underrepresented genders, actively lead outreach activities, foster mentoring programs for undergraduates, and promote professional development within our community.
If you would like to attend regular meetings, you can join our email list by filling out the form found by clicking the button below.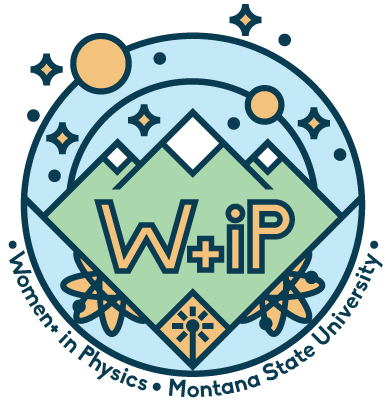 Logo by Catherine Bunn
Spring 2022 Schedule
*Due to the ongoing COVID-19 pandemic, all W+iP meetings will take place via Zoom until it is safe to meet in person. If you would like to attend an upcoming meeting or online event, please contact us at wip.msu@gmail.com and we will send you the link to our next meeting room.
February
02/23/2022 Metting at12:10 p.m. MT
March
03/10/2022 Metting at11:00 a.m. MT
Received Funding from