Epifluorescence Optical Microscope
Olympus BX61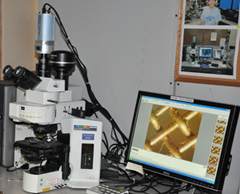 Upright automated microscope with reflected (fluorescence) and transmitted light capability. Flexibility for accommodating multiple sample types, including liquid cultures and biofilm.
ICAL houses a state of the art, high-end Olympus optical microscope, Model BX61 (described below), available for ICAL users.
The BX61 microscope is the perfect union of Olympus infinity-corrected objectives, advanced fluorescence technology and motorized capabilities. Front operation and reduced vibration of the fixed stage microscope achieves a higher standard of stability and reliability. The BX61 is a research microscope built on the platform of the traditional upright frame. Most major microscope functions are automated, including focus, illumination and filter wheels. A complete software command set allows for full computer control.
The ICAL Olympus microscope is equipped with two digital cameras: (1) the DP71 color digital camera with high speed, high resolution (up to 4080 x 3072 pixels) and low light sensitivity to accommodate most applications in transmitted and fluorescence modes and (2) a high resolution, high speed with high sensitivity RETIGA-2000RV black and white digital CCD camera, allowing users to perform difficult live-cell and fluorescence imaging experiments. Both cameras deliver superb image quality for a broad range of applications.
The accompanying Olympus Microsuite™ software allows one to do image enhancement, text and scale bar overlays, combine multi-fluorescence acquisitions into a single image and have a live image output at 13 x 1024 resolution at 15 frames per second to your desktop. Time-lapse image acquisition is possible and the cameras are simple to use and focus even in low light situations. The Retiga-2000RV FAST 2MP monochrome digital camera pictures can be false colored for presentation and publications.
Water immersion objectives allow for direct observation of liquid biological samples including biofilm and individual microorganisms. Biological and non- biological samples can be imaged with precision UIS2 optics (new from Olympus), offering the highest quantum efficiency and range of transmission from UV to IR available today. Olympus UIS2 objectives provide the best S/N ratio by use of a totally new design to curtail autofluorescence from all possible sources – glass material, coating and cementing material. Transmitted light Phase Contrast or Nomarski Differential Interference Contrast (DIC) techniques are available.
Training courses are offered for academic, government and commercial users as well as technical assistance by trained ICAL personnel.
In summary, the ICAL Olympus BX61 microscope offers the following:
Precision objectives including air, oil and water immersion objectives
Suite of reflected (fluorescent) filters (DAPI, FITC/CY2, TRITC/CY3, triple band and RBF)
Significantly reduced autofluorescence and signal-to-noise ratio
DIC imaging (10x, 20x, 40x, 60x)
Digital camera imaging for still and time-lapse observations