Physics Engineering Design Lab
The Physics Engineering Design Lab (PEDL) supports the academic and research missions of the Department of Physics at MSU. We seek to provide advanced instrumentation systems, electrical and electromechanical design, development, consulting, components, and repair of scientific instrumentation.
Engineering design and fabrication services
The PEDL provides in-house capabilities for engineering and fabrication of electrical and electromechanical hardware from concept to final product. This includes circuit design, PCB layout and manufacturing, case design, and final assembly.
A student shown milling a printed circuit board (PCB)
Mentor Graphics PADS: Schematic capture, PCB Layout, circuit simulation CAD software
T-Tech Quick Circuit 5000: PCB prototyping mill
Tools: Soldering and de-soldering irons, hot air station for SMD, test equipment
Individual consultation on your design
Components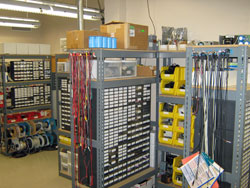 Extensive inventory of electronic components
The PEDL stocks a wide array of components, focusing on the needs of the academic and specific research interests within the department. At any given time, we have approximately 4000 components on-hand. If you have a special request or are in need of components that you do not see listed on this page, check with the PEDL staff. Often we will have what you need or can offer a reasonable substitute.
Capacitors: pF to Farad in Silver Mica, Polypropylene, Polyester Film, Tantalum, Ceramic X7R, Electrolytic
Resistors: Extensive collection of 1% and 5% resistors and trimpots
IC Devices: Timers, counters, gates, op amps, logic
SMD: 1206 Resistors 0 to 1.0 Mohm, 1206 Capacitors 1pF to 10uF, trimpots 10 ohm to 1 Mohm, assorted SMT IC's
Other electronics: Voltage regulators, diodes, transistors, rectifiers, relays, LED's, fuses
Wire: Hookup wire in 4 sizes and 10 different colors, assorted ribbon and coax cable
Connectors: Banana, RF, audio, power pole, terminal blocks, D-Sub
Hardware: Metal and nylon nuts, bolts, washers, and standoffs, sheet metal screws, project enclosures/boxes, power cords, transformers, power supplies, variac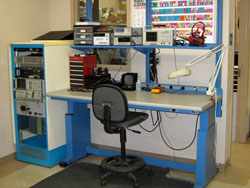 Electrostatic workstation
Additional Capabilities
Instrumentation Repair
ESD-safe workbenches with oscilloscopes, function generators, multi-meters, and power supplies
Cable manufacturing equipment
Loaner test and measurement equipment
Disposal Services – We collect old batteries and electronics for proper disposal
Hours of operation
Monday through Friday, 8am - 5pm
Contact