Irene Grimberg, Ph.D
Affiliate Associate Research Professor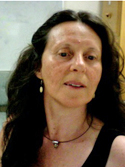 Selected Honors, Awards, and Public Outreach/Service:
Dr. Grimberg serves in several national and international review panels for academic work related to science education and in many graduate students research committees. She was adopted into the Crow Nation (Greasy Mouth Clan) due to her contributions to science teaching in the Crow Reservation. Dr. Grimberg serves as a board member of non-profit institutions dedicated to citizens' development through education.
Biographical Sketch:
Dr. Grimberg received her M.S. in Physics from the University of Buenos Aires, Argentina, and Ph.D. in Physics in 1998 from University of Massachusetts at Amherst. Her dissertation focused on developing higher terms of the electromagnetic potential to accurately describe stellar emission spectra. Dr. Grimberg was an Assistant Research Professor in Michigan State University where she worked in developing a model for intramolecular dynamics resulting from nonlinear optical interaction with gas-phase molecules. Dr. Grimberg also holds other master degree in Science Education she obtained from Iowa State University in 2003, focusing on the learning of thermodynamics. Dr. Grimberg is currently employed as an Associate Research Professor in the Science and Math Resource Center at Montana State University where she continues her research on science learning and teaching, and provides professional development for K-12 teachers in rural areas and American Indian reservations in Montana. She is also the leading physicist consultant of a national e-mentoring program for science teachers.
Interests:
Dr. Grimberg current research interests lie in the areas of science teaching and learning, teacher professional development, argumentation and science discourse in the classroom and online settings, and culturally competent professional development. Her contributions are documented in peer-reviewed articles, book chapters, and conference presentations. Dr. Grimberg also conducts evaluations of research and educational projects in the frame of Montana Office of Public Instruction, NASA, USDA-NIFA, and NSF programs.
Selected Publications:
Grimberg B.I., Sadler E.M., Simkin S.M. (1999). Extended emission line gas in radio galaxies-PKS0349-27. Astrophysical Journal, 521, 121-132.
Grimberg B. I., V. V. Lozovoy, S. M. Dantus and S. Mukamel. (2002). Femtosecond three pulse spectroscopies in the gas phase: Density Matrix representation. Journal of Chemical Physics. A., 106, 697-718. Feature Article.
Grimberg B. I. and B M. Hand (2009). Progression of students' cognitive involvement in inquiry activities. International Journal of Science Education. 31(4), 503-521.
Grimberg B. I. and E. Gummer (2012). Teaching Science from Cultural Points of Intersection. In print. Journal of Research in Science Teaching.