Condensed Matter Research
The Department of Physics pursues an exceptionally broad spectrum of fundamental and applied research in condensed matter physics. The topics include defect characterization, ferroelectrics and piezoelectrics, fuel cells, interfacial growth, magnetism (bulk and thin film), nanotechnology, phase transitions, spintronics, superconductivity, structural studies using x-ray and neutron diffraction, and specimen synthesis including single-crystal and thin-film growth.
State-of-the art experimental facilities at MSU enable measurements to temperatures as low as 0.3 K. We are leaders in the measurement of thermal expansion, using a novel device developed at MSU that is capable of detecting sub-angstrom length changes of specimens to study phase transitions and critical phenomena with superb resolution. Our Ion Beams Laboratory conducts experiments on thin films and buried solid-solid interfaces to reveal fundamental properties and growth mechanics of importance for fuel cells and electronic devices. Ceramics for fuel cells are fabricated and tested for their electrical properties. The spectroscopy group investigates defects in advanced materials at the atomic level using a host of techniques such as EPR, ENDOR and optical spectroscopy, with the goal of engineering new properties for novel applications in photonics and information technology. The Center of Bio-Inspired Nanomaterials utilizes biological molecules as templates for the synthesis of nanoparticles with unusual physical properties; this interdisciplinary effort thrives on close collaboration among biologists, chemists, and physicists at MSU. Somes experiments are also conducted at facilities such as the High Magnetic Field Laboratory, Argonne National Laboratory, Brookhaven National Laboratory, and Pacific Northwest National Laboratory.
The research groups in condensed matter physics are as follows: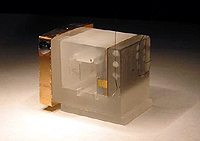 High-resolution thermal expansion cell developed at Montana State University. Constructed entirely of fused quartz, with egligible thermal expansion. Expansion of the sample changes the spacing between the capacitor plates
Superconductivity and Magnetism in Novel Materials
Dr John Neumeier, Professor of Physics
Superconductivity, Superfluidity, Magnetism
Dr Vorontsov, Assistant Professor
For more details see:
Faculty Participating in Condensed Matter Programs: