Roger Macfarlane, Ph.D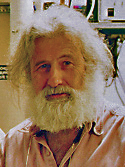 Biographical Sketch:
To be added later.
Interests:
Laser spectroscopy of rare-earth and transition metal ions in insulators and semiconductors
Quantum coherence at low temperatures
Selected Publications:
R. M Macfarlane, A Arcangeli, A. Ferrier and P.M.Goldner, "Optical measurement of the effect of electric fields on the nuclear spin coherence of rare-earth ions in solids", Phys. Rev. Lett. 113, 157603 (2014).*Ileana G. Rau, Susanne Baumann, Stefano Rusponi, Fabio Donati, Sebastian Stepanow, Luca Gragnaniello, Jan Dreiser, Cinthia Piamonteze, Frithjof Nolting, Shruba Gangopadhyay, Oliver R. Albertini, Roger M. Macfarlane, Christopher P. Lutz, Barbara Jones, Pietro Gambardella, Andreas J. Heinrich & Harald Brune, "Reaching the Anisotropy Limit of a 3d Metal Atom" Science, 344, 988 (2014).
B. Lauritzen, N. Timoney, N. Gisin, M. Afzelius, H. de Riedmatten, Y.Sun, R.M. Macfarlane and R.L. Cone, "Spectroscopic investigations of Eu3+Y2SiO5 for quantum memory applications"Phys.Rev.B85,115111(2012)
R. M. Macfarlane, "Optical Stark Spectroscopy of Solids", J. Lumin. 125,156 (2007).
R. M. Macfarlane, Y. Sun, P. B. Sellin and R. L. Cone, "Optical Decoherence in Er3+-doped Silicate Fiber: evidence for coupled spin-elastic tunneling systems", Phys. Rev. Lett. 96, 033602 (2006).
X. Jiang, R. Wang, R. M. Shelby, R. M. Macfarlane, S. R. Bank, J. S. Harris, S. S. P. Parkin, "Highly Spin Polarized Room Temperature Tunnel Injector for Semiconductor Spintronics using MgO (100)," Phys. Rev. Lett. 94, 056601 (2005).
E. A. Downing, L. Hesselink J. Ralston and R. M. Macfarlane, "A Three-Dimensional Solid State Volumetric Display" Science., 273, 1185 (1996).
R. M. Macfarlane, "Photon Echo Measurements on the Trivalent Thulium Ion ", Opt. Lett., 18, 1958 (1993).
R. M. Macfarlane and R. M. Shelby, "Coherent Transient and Holeburning Spectroscopy of Rare Earth Ions in Solids," in "Spectroscopy of Solids Containing Rare Earth Ions," A. A. Kaplyanskii and R. M. Macfarlane, eds., North Holland, 1987, p.51.