Robert J. Leamon, Ph.D
Assistant Research Professor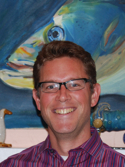 Email: robert.j.leamon@nasa.gov
Phone: 301-286-8958
Fax: 301-286-0264
EPS Room 264, NASA Goddard Space Flight Center, Greenbelt MD, 20771, MD
Related Links:
Biographical Sketch:
B.Sc. (Hons), Imperial College, London (1994)
Ph.D., University of Delaware (2000)
Originally from Wales, I first arrived at MSU to join the Solar Group in the Fall of 2000 as a post-doc, having recently completed my Ph.D. at Delaware. After 3 years, I moved to Washington, DC, working at NASA's Goddard Space Flight Center. In the Fall of 2009 I rejoined the University in preparation for a move to NASA Headquarters to work on the management of NASA's Living With a Star Program.
Interests:
My research interests and skills are primarily in data analysis and observation. Although a member of the Solar Group, my interests extend further (both literally and metaphorically) than just the Sun:
While my dissertation research focussed on interplanetary data and only considered the Sun as the source of the solar wind, during my time at Montana State I embraced solar observations; the over-arching theme of my post-dissertation research career to date has been the correlation of interplanetary phenomena with their solar sources. This is true on both large scales with coronal mass ejections and their interplanetary manifestations, and to the small-scale tracking and forecasting of the quiet solar wind. My most recent efforts are focussed on how the nascent solar wind accelerates in the solar corona and even below.
I still maintain an active interest in the dissipation magnetic fluctuations in the corona, solar wind and heliosphere. I am particularly looking forward to contributing to missions at the confluence of my research efforts, namely Solar Probe Plus and Solar Orbiter.
Selected Publications:
Link to my publication record at the SAO/NASA Astrophysics Data System:
http://www.tinyurl.com/LeamonADS